Our Top Selling Security Locking Commercial Mailboxes
Heavy Duty Pedestal CBU's

Standard units come in 8, 12, and 16 compartments.
Experience matters - - - see our Pad Installation Kit!
NEW Depot Mount 4C Units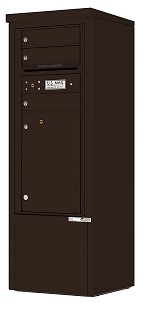 The Depot Mount 4C Mailbox is perfect for nearly any size application! Request a free quote for your project now!

High Quality USPS Approved Commercial Mailboxes
US Mailboxes offers top quality commercial and residential security mailboxes for the best protection against vandalism, mail theft, and identity theft. Our locking mailboxes will protect your valuable information!
Security & commercial mailboxes need to address four main areas for the customer:
Strength against vandals seeking to destroy your mailboxes
Quality design to keep from having mail theft
Artistic design for an attractive mailbox
USPS approved security locking mailboxes
Our company seeks to have the best products at addressing these features. We are happy to consult with you to get the right security mailbox or cluster mailboxes for your specific goals.
We are a US Postal Service approved group CBU mailboxes provider. We have worked closely with the USPS since 1983 and have a relationship and experience that has given us the respect of postmasters across the country.
Our mailboxes & accessories:
Superior Locking Mailboxes, Unbeatable Service
If you can't find cluster mailboxes or single security mailboxes that you need on our website, then let us know. We can provide most postal products.
We have installed thousands of CBUs, including the fabrication of concrete pads per USPS specifications; we also provide mailbox installation consultations for your unique mailbox needs.
We offer installation quotes in select areas of Oregon and California and for very large locking mailbox projects nationwide.
We give additional discounts on USPS approved large security mailbox purchases. Contact us online, or call (541) 389-4928 for more details. US Mailboxes is committed to continuing the values of maintaining a high quality service in a prompt and timely manner.