About US Mailboxes
Commercial & Residential Security Locking Mailboxes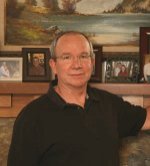 Michael G. Johnston, President
US Mailboxes is incorporated under the name Pilot Development, Inc. and has offered locking security mailboxes since May 1983. We first started installing commercial group security mailboxes and concrete pads for the US Postal Service in Bakersfield, CA. Within the first year we had acquired contracts to install NDCBU cluster mailboxes for the USPS in the high volume areas of San Diego, Santa Ana, Van Nuys, Santa Barbara, and Bakersfield, California.
Over the years we have been under contract from the USPS to install security mailboxes in nearly every area of California, Oregon, and Washington. As mail theft became more common, the local sheriff asked us to provide residential locking mailboxes to homeowners.
When the USPS stopped providing locking group mailboxes for new residential developments, we began providing CBUs to some of the largest home builders in America. With our web site, we have been able to reach across the country to provide quality, security locking mailboxes to commercial developers, home builders, and homeowners everywhere.
USPS-Approved Residential & Commercial Locking Security Mailboxes
Today, US Mailboxes offers the following types of locking security mailboxes:
With our experience in the mailbox installation process, US Mailboxes can offer advice and consultation on nearly every mailbox project, large and small, to achieve the best possible mail delivery system for your needs.
US Mailboxes is committed to providing the best quality and most reliable security mailboxes on the market, and we take pride in giving prompt service to all of our customers!
Protect Yourself Against Identity Theft & Mail Fraud
Learn more about how locking security mailboxes from US Mailboxes can save you money and protect you against mail and identity theft.
Free Quotes on Commercial & Residential Security Locking Mailboxes
Not sure what you need? Have a tight budget? Request your free quote on our wide selection of commercial and residential security locking mailboxes. US Mailboxes offers discounts on bulk orders and will work with you to meet your budgetary needs.